In a FeelTheTip first, we move away from Boxing, Football & MMA to ask Pro Surfer Dee Ripoll some questions about her background, life as a pro surfer & who she'd like to leave stranded in the Ocean.
First off thanks for taking the time for this Q&A!
What is your mothers maiden name and Bank account number?
Ha! I knew there was an ulterior motive to this Q&A…
I'm sure you will feel very honoured to know you are the first person we have interviewed that isn't a fighter or footballer!
Very honoured – although I do a mean Walls of Jericho (if that counts).
If I were to ask people for a country they associate with Surfing, as a betting man, I would put a lot of money on people not saying Scotland. Could you give us the back story of how you got into surfing?
I started surfing in my last year of University studying law. I used to run along the beach and see people out in the water…I thought they were crazy but something captivated me and now, I'm one of them!
Were you a thrill seeker growing up? Would people you grew up with be surprised you were now a Pro surfer?
I wouldn't say so, but I always loved playing all team sports at school…I also played tennis competitively when I was younger and PE was always my favourite subject at school. I did a lot of horse riding competitions and events too , which involved jumping scary fences on my wild wee pony Fidget (I still have her) and my poor mum watching on the side lines in terror! Watching videos back now makes my stomach churn so maybe I have always been a bit of a thrill seeker.
As a 'Pro' surfer, what is a typical day for you? Do you have a 'normal' job or is riding waves paying the bills?
I qualified as a lawyer in 2011 but decided to quit that to pursue my surfing career. After suffering a bad surfing accident, followed by a car accident in 2013, I was out of the water for almost 2 years…luckily I had my law to fall back on. I now work part-time as a lawyer and balance the rest of my time surfing and travelling to surf. A typical day will always involve some form of training even if that day was spent in the suit in the office). Keeping your body healthy and fit is so key to my performance in the water (I think anyway).
What attributes, actions or behaviours have contributed to your success?
Determination, dedication and drive. I guess in my darkest moments after the accidents, having the resilience to not give up played a big part too.
Has there been a defining moment in your Surfing career to date? What images spring to mind when thinking about your best moments?
As much as I love to compete and I am always hungry to win, it's now always about winning or losing, it's always about giving 100 % and knowing that I could not have tried any harder. For me, getting back on my surf board after the surfing accident was huge. Initially I didn't want to surf ever again…I was terrified. The other defining moment I think was paddling into some of the biggest and heavy waves I have ever surfed at Thurso East (Scotland) after smashing my face with my board when I wiped out on my first wave was a big moment for me in my surfing career. That's a day I look back on now and feel proud of. Being out there surfing with all of the boys who absolutely rip and not paddling in even when I had hurt myself, then catching one of the best waves of my life felt incredible!
Being in such an extreme sport I'm sure you have fantastic stories & experiences. What has been the strangest moment you've experienced whilst surfing?
There are so many to tell, I don't even know to start…but, I think the most special for me are the moments when your experience in the water collides with marine life. It's their home that we go into and share with them as surfers, so when a dolphin, seal, turtle or fish pops up nearby you, it is so special! I was in California several weeks ago surfing at Tresles and the sun was going down, the waves were perfect and the light was beautiful. Literally, 10 metres from me pops up this pod of dolphins…baby ones at the back. They were just playing in the ocean like I was and it always feels slightly surreal and so special!
What is the scariest moment you've experienced?
(My surfing accident in 2013 – being helicoptered off the beach on a spinal board. I can't begin to describe how it felt but all I can say is I am one very lucky lady and I live every day now and each morning I wake up, I am thankful to be here another day doing what I love!
What celebrity/hero/famous person would you love to spend a day surfing with?
Julian Wilson – for anyone who doesn't know him…he is one of the best surfers in the world and ladies, I'm sure you'll appreciate this one! Haha.
And what celebrity/hero/famous person would you want to leave stranded with just a surfboard in the middle of the Ocean?!
Donald Trump – I hope that's not too controversial!
What is one thing that if you told people they would be surprised they didn't know about you?
I still sleep with my teddy every night and I am terrified of spiders! Haha.
If you could relive any moment in your life, what would it be and why?
I wouldn't relive any. You can't turn back time and I wouldn't want to. Every experience I have had had shaped me into the person I have become. Now, I just try to continue to grow as a person and learn from the mistakes I have made and the experiences I have had. Life is a journey that is for sure, but I have no regrets and would't want to change anything! I'm also a firm believer in fate, so I am just rolling with each day as it comes now.
If you could only eat one food for the rest of your life, what would it be and why?
Avocados….super food to the max and they are so tasty!
What advice would you give to a kid looking to become a Pro sportsperson?
Believe in yourself and never give up on your dreams. I firmly believe if you want something badly enough and you work hard enough to achieve it, that you can! Never let any one tell you that you can't! Eat well, train hard, train harder…live every day and always push yourself that little extra. It's always when you push yourself that extra little bit that you achieve something you didn't think was possible!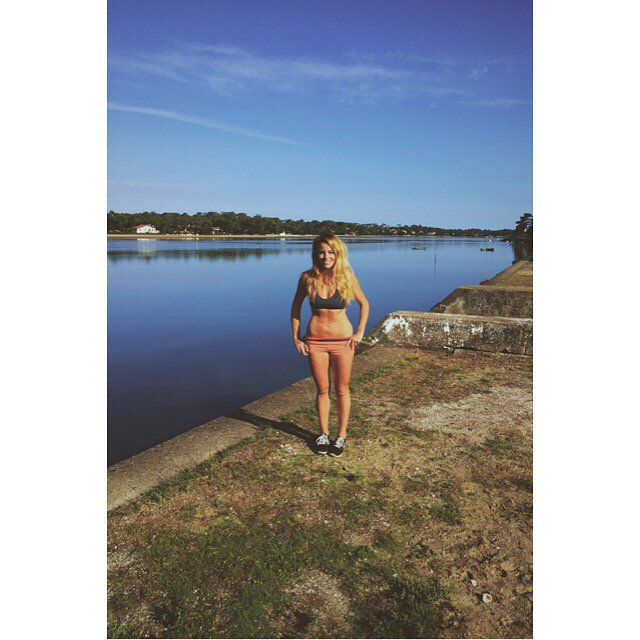 Where do you see yourself in 5 years?
I don't make plans now because who knows what tomorrow will bring…if I'm somewhere surrounded by the people I love, with salty hair and a smile on my face then that will be winning at life to me!
And finally, do you FeelTheTip?
I am a lady (shocked face).
Thanks Dee, all the best. Try not to get eaten by a shark.
If you enjoyed this Q&A, take a second to share it with your friends via the links below
You can follow Dee on Twitter & Facebook.
Like FeelTheTip on Facebook & Follow FeelTheTip on Twitter
Dee Ripoll – Interview